By Brent Thompson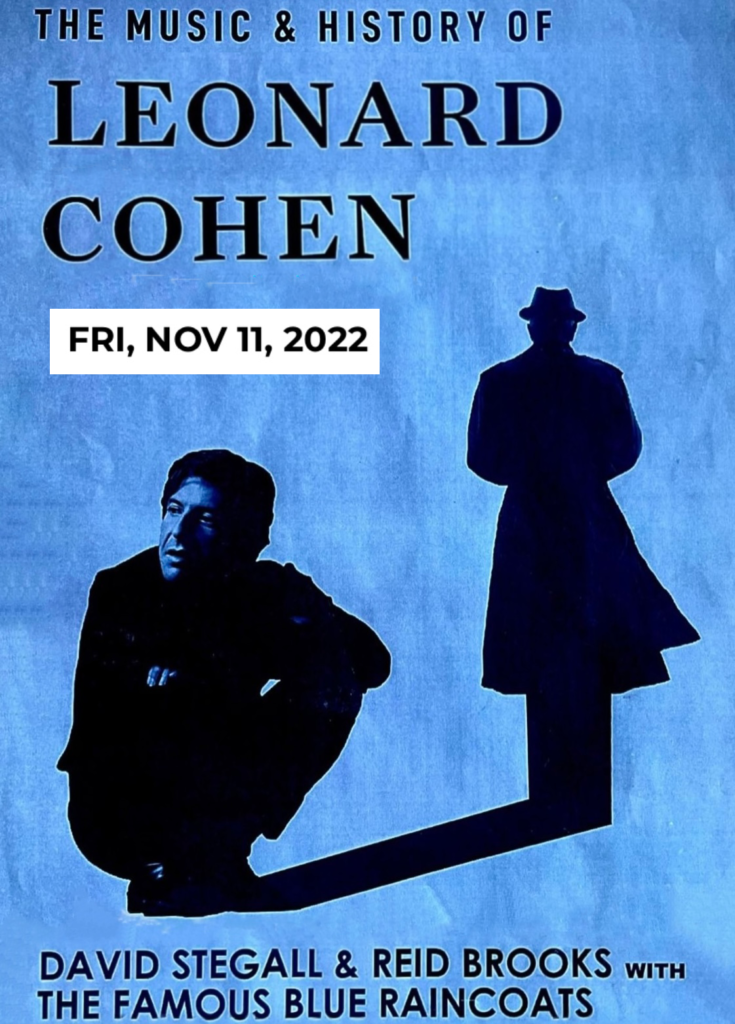 You know Leonard Cohen's music whether you realize it or not. Though he never achieved breakthrough success in the U.S., the Canadian singer/songwriter (1934-2016) left a lasting legacy with his iconic song "Hallelujah." First released by Cohen in 1984, the song was later recorded by John Cale and Jeff Buckley. In addition, "Hallelujah" has been featured in television series including The West Wing, The O.C. and Without a Trace among others. On November 11, David Stegall and Reid Brooks – backed by The Famous Blue Raincoats – will expand your knowledge of Cohen with a performance of The Music & History of Leonard Cohen at WorkPlay. The show marks a repeat engagement, having previously been performed in Birmingham and Atlanta. Recently, we sat down with Stegall and Brooks to discuss the project.
Southern Stages: Given Leonard Cohen's vast catalog, how did you select the songs that comprise your setlist?
David Stegall: I went through every live album I could find and started checking off the ones he always did. Whatever he did most in concert, we did those. The last four or five songs we play he never did live because he stopped touring and they're ones that we just like.
Reid Brooks: We really wanted it to be what he would do. It's a good replication of a Leonard Cohen show. We knew we wanted to tell the story of Leonard's life, so we also went through album by album. We tried to pick songs from different albums and not do a lot of songs from just The Future.
Southern Stages: The concept of your show seems similar to The Maverick Lounge Series in that it drills down on both the life and music of a certain artist.
Stegall: That's where we got the idea to do it. I figured this show would lend itself to that format because a lot of people have heard of Leonard Cohen – particularly "Hallelujah" – and a lot of singer/songwriters have always loved Leonard Cohen, but he was never hugely popular in the U.S. He was popular in Canada and Europe. He's got a lot of name recognition, but people aren't familiar with his work.
Southern Stages: Are there any plans to take this show to other markets around the country?
Stegall: When we did the first show, I was getting inquiries from all over the world. I was getting emails from Europe, Canada and Australia. We would love to do it – we've just got to get a few shows under our belt.
Southern Stages: The timing of this show is good as there is currently a healthy market for cover and tribute bands these days. Yacht Rock Revue, Rumours and Black Jacket Symphony are some successful acts that come to mind.
Stegall: Tickets are affordable, too. You go see The Eagles and you'll pay $175 per ticket. And there 's an educational aspect to our show.
Brooks: That's what makes this show different – there's a narrative that goes with the show.
The Music & History of Leonard Cohen – performed by David Stegall and Reid Brooks – backed by The Famous Blue Raincoats – will take place at WorkPlay on Friday, November 11. Showtime is 8 p.m. Advance tickets to the 21+ show are $18 and can be purchased at www.workplay.com.